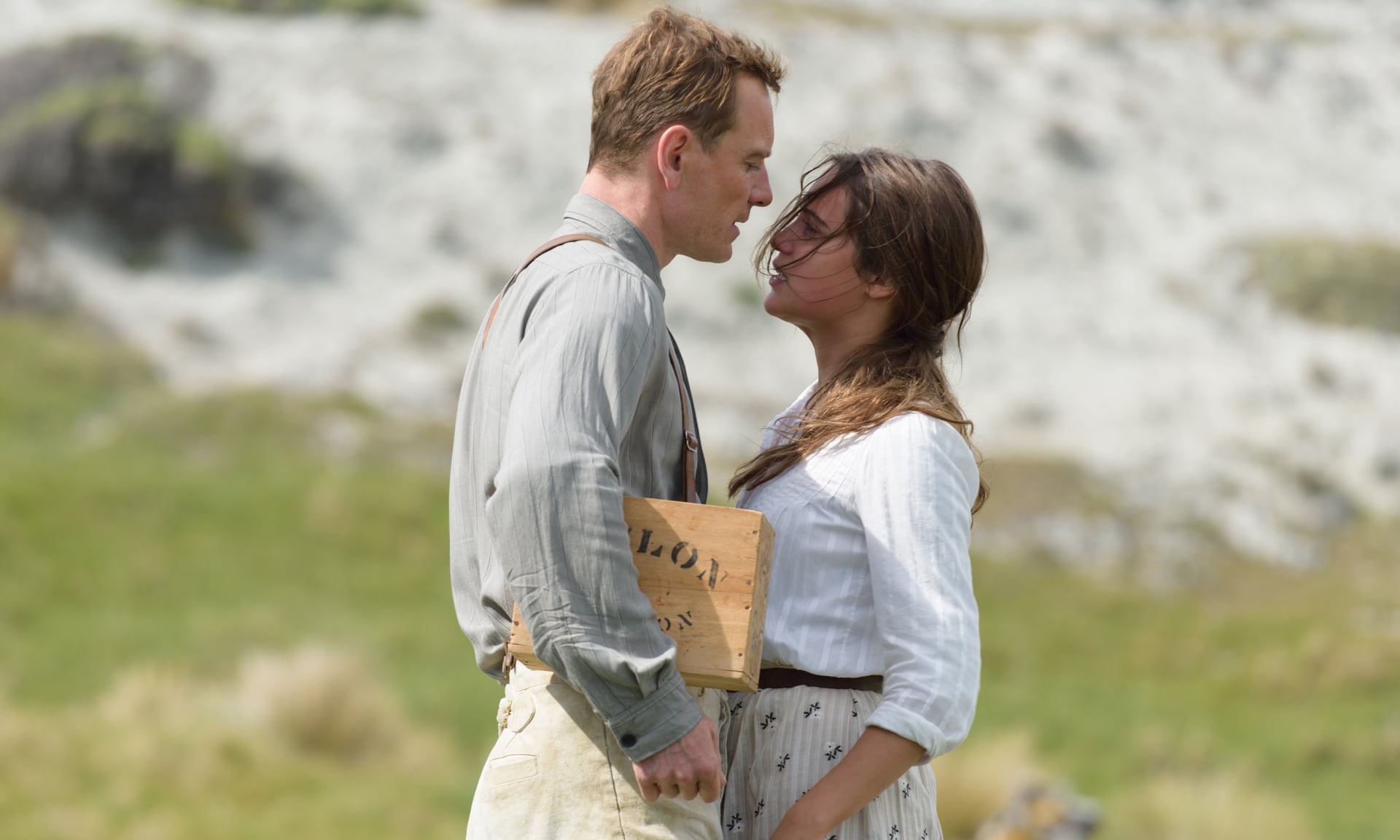 LOUISA: 
MATT: 
---
LOUISA SAYS:
"The Light Between Oceans" reminds me of a Nicolas Sparks movie that's made to target a more sophisticated, artistically intellectual audience. The unhurried pace mixed with a deeply thoughtful story about morality, love, duty, and doing the right thing is sure to divide audiences with its deliberate, assured style and substance.
World War I veteran Tom (Michael Fassbener) needs to escape his demons after years in combat so he accepts a job as a lighthouse keeper on a very remote island. He relishes the isolation until he meets the beautiful Isabel (Alicia Vikander) on the mainland. The two soon marry and Isabel joins Tom on the island. All is wonderful until Isabel suffers two tragic miscarriages and slowly begins to lose her mind to grief. When a mysterious rowboat harboring a starving infant and a dead man washes ashore, the pair decide to raise the child as their own and become entangled in a dramatic, heartbreaking melodrama of their own doing.
There's so much to this story (based on novel by M.L. Stedman) that it's impossible to discuss all of the plot points. As with most films based on literary works, this one is packed with far too much story in an obvious attempt to cram in as much of the original novel as possible into the screenplay. This really becomes evident as the pacing becomes a bit too rapid with event after event stuffed into the film's final half hour, and it doesn't fit in well with the rest of movie's purposefully slow pacing. There's simply too much story towards the end of the movie; not that it matters much because the first half is fantastic and dare I say it, nearly perfect in every way.
There's an overwhelming sense of isolation and regret that's fully realized by director Derek Cianfrance's visual style. This movie looks absolutely gorgeous throughout and is beautifully shot and framed. The delicate, dreamy realism is just lovely. Anyone who loves the medium of film will adore the cinematography in this movie.
As in Cianfrance's previous works ("Blue Valentine" and "The Place Beyond the Pines"), he has a clear, confident vision that's fully realized. The material is an ugly story that turns out to be a little bit beautiful, and his restrained visuals elevate the heartbreaking elements while firmly keeping the film from devolving into nothing more than a commonplace manipulative tearjerker. Sure it's calculated to tug at your heartstrings, but the subtle emotion feels realistic and the actors' commanding performances lend more than just a passing air of authenticity.
The chemistry is off the charts between Vikander and Fassbender. Their wildly romantic onscreen relationship never falters. Fassbender finds just the right mix of reserved aloofness and quiet desperation, and the uber talented Rachel Weisz adds yet another memorable performance to her resume as a grieving mother who undergoes her own tale of tragedy and loss.
The performances are all fairly restrained — for the most part. There's an unfortunate scene where Vikander grossly overacts by wailing and dropping to the floor; I didn't want it to be funny but sadly, it was. What's interesting is that none of the characters here are very sympathetic, yet I found myself genuinely caring about them all. There's so much moral ambiguity in each of them, yet at times I sided with and understood every person's motivation (no matter how kind or how selfish). That's a testament to how fantastic these performances are.
This is a skillfully crafted and beautiful film throughout. Highly recommended.
MATT SAYS:
Derek Cianfrance is a bit of an enigma as a film director. He seems to have a flair for telling stories in a short format, but when it comes to sustaining a feature-length picture, he struggles a bit. This truth was particularly apparent in "The Place Beyond the PinesThe Place Beyond the Pines" — what essentially was three stories in one that were all linked to one another — but the same can be said about his latest effort, "The Light Between Oceans."
Louisa recommended that I not recap the story here (as is my tendency) so I won't. It's hard to explain the plot, anyway. But I will say that the first part of this story — in which Tom Sherbourne (Michael Fassbender) travels to a small coastal town and takes a job as the keeper of a lighthouse on a remote island, and then falls in love with Isabel Graysmark (Alicia Vikander) — is well-done. Life maintaining a lighthouse on a lonely island after the first World War is something I know nothing about, and I watched with great interest as Tom moved to the island and started writing letters to Isabel.
Fassbender and Vikander have palpable chemistry, and perhaps that is why the first part of the movie is so compelling. Their life and love alone together on a remote island is the stuff of the Hallmark channel and the paperback Harlequin romance novels my grandmother used to buy by the sackful, but the authenticity that each brings to their characters and their relationship makes it interesting.
And then the baby stuff starts.
I felt my interest start to wane when the couple becomes obsessed with having a child. The miscarriages are tragic to be sure, and the arrival of baby Lucy-Grace (Florence Clery) amps up the drama a bit. But the inevitable confrontation between the Sherbournes and Lucy-Grace's birth mother Hannah (Rachel Weisz) didn't arrive nearly soon enough. Many times I felt myself reaching for the imaginary fast-forward button, just waiting for SOMETHING to happen in this movie. And when things do start to happen, they do so on a pace that is frustratingly languid.
I saw this film because of its pedigree. There can be no question that Fassbender, Weisz, and Vikander are some of the finest actors working today. Cianfrance is a director worthy of note, having made the incredibly insightful relationship drama "Blue Valentine." And 1/3 of "The Place Beyond the Pines" was excellent; if that one story stood on its own, it would have been in my top 10 list for 2012. But having an awards-bait cast and director doesn't always equate to a great movie, and that was certainly the case here.
While Cianfrance was undoubtedly able to tease some insightful moments out of his actors and the cinematography was, at times, gorgeous, there just wasn't enough in the story to hold my interest. Perhaps I would have felt differently if it lost about 45 minutes of running time, but as it currently stands I can't recommend this movie.