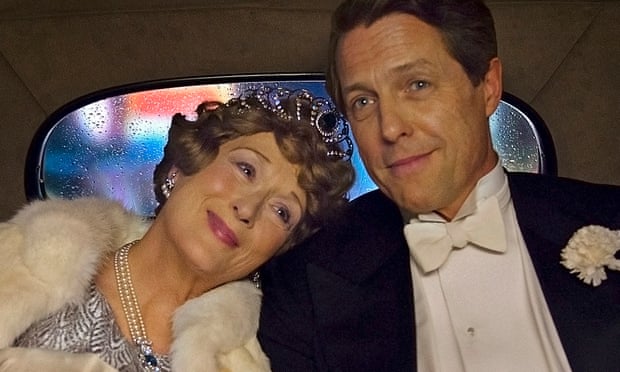 LOUISA:
MATT:
---
LOUISA SAYS:
"Florence Foster Jenkins" is a mediocre attempt at a biopic from director Stephen Frears ("Philomena," "The Queen"), something that's truly surprising given that this is precisely the type of material he excels at bringing to the screen. The true story of an American socialite and music lover tries to be an all-around crowd pleaser but instead gives off a contradictory vibe.
Florence (Meryl Streep) is a wealthy patron and benefactor of the musical arts in the 1940s in New York City. She fancies herself an amateur soprano and is well known in certain circles for her flamboyant performances, extravagant costumes, and incredibly awful singing. It's pretty cool that a film was made about her and she's definitely one of those historical figures with whom all musicians and music lovers should familiarize themselves.
As is to be expected, this is far and away Streep's movie. She's as reliable as ever and has a ton of fun with this role; she's simply delightful to watch. Ditto for co-star Hugh Grant, perfectly cast as Florence's husband St. Clair Bayfield (she's his sugar mama, but the actors play it as a believeable love story). As Florence screeches and rehearses for her opera performance at Carnegie Hall, St. Clair goes to great lengths to prevent her from making the soul-crushing discovery that she has an appalling singing voice.
While the film is designed to be a crowd pleaser (especially among older folks; your mom and grandma will probably love it), I found it to be draggy and long drawn out, particularly the extended scenes of Florence singing her screeching operatic solos. These scenes of waaaay off-key singing go on far too long and actually started to make me feel embarrassed for her as well as myself. At first I started to giggle because of how god-awful her singing is, and it felt like the filmmakers were encouraging the audience to laugh and point. Then in the very next scene, the film semi-shames the audience for laughing. This confusing shift made me feel quite flustered and eventually disengaged from the story. The ending gets more than a little heavy handed and is bogged down with overt symbolism that feels more like a manipulative way to wrangle tears out of the crowd than an artistic choice by Frears.
Florence is a mildly interesting historical figure that I'd never heard of before seeing this film and I very much enjoyed researching her. I applaud Florence's real-life efforts to keep a vibrant music scene brewing in New York City and we could all learn from her plucky self-confidence and gutsy determination. Much like its main subject, this film plays like a sincere passion project –yet in the end, it's mediocre and just can't carry the tune.
MATT SAYS:
A wealthy socialite is a patron of the arts in New York. She loves music, but isn't satisfied by just listening — she wants to sing, in front of an audience. But no one has the heart to tell the kind woman that she can't carry a tune.
So goes the true story of "Florence Foster Jenkins," a woman who played Carnegie Hall in the 1940s in spite of the fact that she was a terrible singer. Florence (Meryl Streep) is a kind-hearted woman who does much for everyone else, most of all her husband St. Clair Bayfield (Hugh Grant). St. Clair supports his wife  and does everything he can to support her in achieving her unrealistic dream, including hiring a famous conductor as a vocal coach and concert pianist Cosme McMoon (Simon Helberg) to accompany her. For, as St. Clair tells Cosme, "without loyalty, you have nothing."
"Florence" is an interesting story with universally appealing themes about love, loyalty, and friendship. But there isn't much to it. If not for the prowess and pedigree of Streep, I'm not sure it would be noticed much at all. She does a decent enough job (as we all expect her to), but with the exception of a moment here or there, we never really get a sense for who Florence is as a person. She's more or less just a collection of attributes without much substance; I feel like I could have learned just as much about her by watching a 10-minute episode of "Drunk History." By comparison, Hugh Grant imbues St. Clair with emotional weight in a nicely understated performance; in his case, we do get a glimpse behind the curtain. While it's not an award-worthy performance, Grant definitively demonstrates that he has left his pleasant-but-one-note rom-com days behind him.
Plenty of folks will enjoy this movie well enough, but it's hard to recommend to a broad audience. I'm sure I'll forget about it by the end of the year and you will, too.