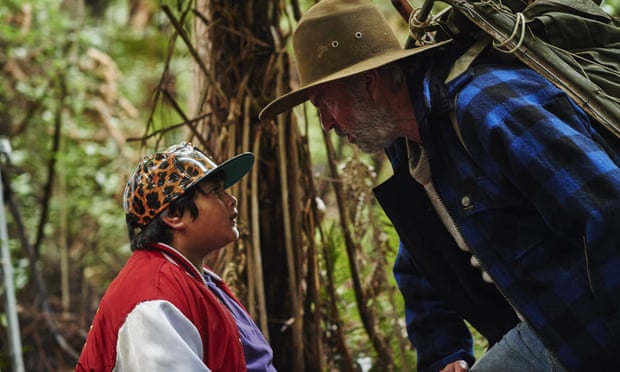 LOUISA:
---
LOUISA SAYS:
Quirky films must be well executed in order to work, and luckily the rabidly original "Hunt for the Wilderpeople," based on Barry Crump's book "Wild Pork and Watercress," meets the challenge. Taika Waititi (if you haven't yet seen his brilliant films "What We Do in the Shadows" and "Eagle vs Shark," rent them now) is back at the directorial helm with this farcical tale of a 60 year old curmudgeon and a wayward 13 year old foster kid. Waititi's kooky sense of humor shines throughout this very funny (and oddly touching) coming of age film.
Ricky (Julian Dennison) is a haiku spouting, hip-hop loving foster kid who ends up at the rural mountain home of rugged Hec (Sam Neill) and kindly Bella (Rima Te Wiata). Child services agent Paula (Rachel House) even calls Ricky a "very bad egg" when she drops him off at his latest in a long line of unsuccessful foster homes. When a tragedy strikes, Ricky fakes his own death, sets off into the woods, and gets lost. When Hec comes to his rescue, there's an accident and the pair find themselves stuck in the wilds for several weeks. A huge misunderstanding ensues and the duo become outlaws on the run, being chased by everyone from incompetent cops, child services, rogue game hunters, a lunatic survivalist, and finally the army.
The handsome New Zealand wilderness is beautifully shot and gorgeously framed, and the look and style of this film is incredibly polished for such a small production. Waititi has as much of an expert eye for visual flair as he does for goofy, irreverent humor. Some of the jokes are just plain unsettling (there's a running joke about "child molesterers" — not a typo — that comes across as more unpleasant than amusing), but for every awkward and squirmy wisecrack there's a comedy goldmine (the cameo by Waititi as a local preacher is one of the funniest scenes in years). The pitch-perfect comic timing and deadpan banter between Ricky and Hec is what makes the movie quite the enjoyable ride.
Make no mistake: this is a very oddball movie, but it's also loaded with universal themes that everyone can relate to. It's outlandish and peculiar, but also provides a poignant exploration of grief, loneliness and what it means to be a family.
---
Matt was unavailable for review.Save