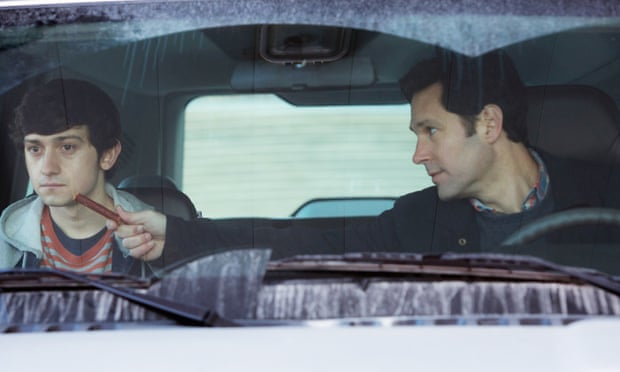 LOUISA:
---
LOUISA SAYS:
"The Fundamentals of Caring," adapted from the novel by Jonathan Evison, is a buddy road movie with heart. This character-driven dramedy of male bonding and unlikely friendship tells the story of Trevor (Craig Roberts), a teenager with muscular dystrophy, his caregiver Ben (Paul Rudd), and their journey on the open road. Problem is, there are more than a few scenarios that seem to have the sole intent of pulling on our heartstrings in an less than subtle play to elicit pity from the audience.
When writer Ben decides it's time for a career transition, he chooses to become a caregiver. Trevor, a sarcastic, disabled young man who lives with his well meaning yet overprotective mother (Jennifer Ehle), also suffers from agoraphobia. He refuses to leave his house but spends time mapping out cheesy U.S. roadside attractions like the 'Largest Bovine' and the 'Deepest Pit' (bet you can't guess where this is going)! Of course Ben convinces his new charge to head out on the open road to tick all of these sights off his checklist.
And there's the problem with this film: it, too, feels like a checklist of indie film clichés. It's loaded with so much predictability that I suggest you to keep a list of your own: I challenge you to find one platitude or convention that isn't included in this story.
Roberts is effective as an uptight Brit and Rudd is as effortlessly charming as ever, perfectly cast as a grieving father who is looking for some sort of personal redemption through care giving. There's an unfortunate awkward performance from Selena Gomez, who is more than a little distracting as a tough teen runaway. She's horribly miscast and just can't pull off the role.
The film is offbeat and strained at times, but the overall likeability of the two leads keeps it humming along. Everything feels far too formulaic (the duo learn about life and become better people along the way) and the material never reaches new ground, but it's an enjoyable watch.
"The Fundamentals of Caring" was released by and is available exclusively on Netflix.
---
Matt was unavailable for review.