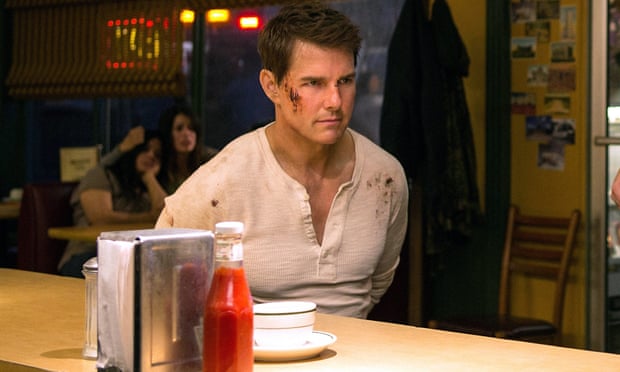 LOUISA:
MATT:
---
LOUISA SAYS:
In the latest movie where the title serves as a warning to potential audiences, "Jack Reacher: Never Go Back" is a bland, dull excuse for an action thriller. It's doubly tragic that this sequel is so unsatisfying because the original "Jack Reacher" was such a great movie. Every ounce of fun has been completely sucked out of this stale, empty retread.
Tom Cruise returns as ex-military tough guy Jack Reacher, and he's a good fit for the role. The usually annoying and coldly aloof Cobie Smulders is an agreeable enough match for Cruise, playing an Army honcho who has been falsely accused of treason (this is one of the rare roles where Smulders isn't too bothersome, but she and Cruise lack any sort of real chemistry).
The decent plot (based on Lee Child's bestselling novel "Never Go Back") hinges on a straightforward mystery with lots of suspicious murders, shady henchmen, and an illegal arms selling / drug smuggling scheme that pops up out of nowhere. It's not that the story is a particularly bad one: it's that the dialogue is, let's not mince words here, absolutely awful. Horrible. Dreadful. The characters often state the obvious with unintentionally hilarious aplomb ("Look, a food truck!," and "I want to know what he ate for breakfast, and I want it on my desk ASAP!").
There's a conventional, second-rate subplot about Reacher's supposed long-lost daughter Samantha (an irritating performance from Danika Yarosh) that the filmmakers use as an attempt to set the story up for a sequel (while audiences everywhere surely must be hoping that's not the case).
The sanitized action scenes are lame and most are dead on arrival. The 'best' action sequence, which isn't saying much, takes place in a restaurant kitchen where the weapon of choice is a giant meat tenderizer (yep, you can look forward to 'exciting' bits like that).
"Jack Reacher: Never Go Back" and this year's equally awful "Jason Bourne" will blend together in my mind at the end of the year. Everything about this film is mediocre, and there's nothing memorable or distinct about it. There's not one shred of suspense, adventure or excitement. This is Hollywood watered-down junk, and Tom Cruise is far better than this.
MATT SAYS:
As the old adage goes, be careful what you wish for; you just might receive it.
After watching the first "Jack Reacher", I wished for more movies with this character (played by Tom Cruise). That film was a contender for my best of 2012 list because it was a compelling story about a man with an interesting past working to solve a case involving a trained military sniper. That movie was scripted and directed by the talented Christopher McQuarrie and had an excellent supporting cast with talented actors. "Jack Reacher: Never Go Back" is a significant downgrade from the first film in virtually every way possible.
In the new movie, Jack teams up with Army Major Turner (Cobie Smulders) to uncover the truth behind why two of the people under Major Turner's command were killed in Afghanistan. Reacher and Turner quickly find themselves the targets of a conspiracy that involves a number of high-ranking military personnel, and are forced to go on the run while they work to uncover the truth behind the plot. Yawn.
While I am a fan of Cruise, he and Smulders have no chemistry. Smulders turns in typically one-note and humdrum performance (who in the hell decided she should be a movie star, anyway?). The script (by Richard Wenk and Edward Zwick and Marshall Herskovitz — yes, 3 different writers) is laughably bad. The direction (by Zwick) is pedestrian and unimaginative. The scenes featured in the trailer (which made it look really good!) are virtually the only things to like about this movie, and the best one of them opens the film, which means that everything goes downhill from there.
I now regret wishing for another "Jack Reacher" movie. Don't bother seeing this one.