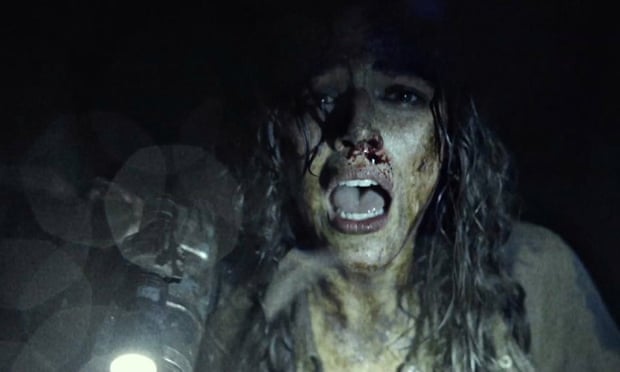 MATT:
---
MATT SAYS:
"Blair Witch" is yet another unnecessary "requel" that neither improves on its predecessor or presents any meaningful justification for its existence. It's not exactly bad, but it's also hard to understand why the people involved with making it felt that it was worth doing.
"The Blair Witch Project" took the world by storm in 1999. It's still respected as one of the top horror films of all time, and for good reason: many people remember it fondly for having scared the wits out of them when they first saw the film, and its found-footage style has inspired scads of imitators. Through the haze of memory, most people don't remember that "The Blair Witch Project" was 85% repetitive and sort of boring, with the only real scares coming at the climax, with that end scene. But oh, what an ending scene that was. It's still by far one of the scariest sequences ever committed to film, and for that reason the movie stays in our collective consciousness.
Which is apparently why some folks thought a sequel, set 15 years later, would be a good idea. This version of the story comes from genre darling filmmakers Adam Wingard and Simon Barrett ("You're Next" and "The Guest") but lacks the usual flair or originality that I've come to expect from them.
Although the film does reference its predecessor, "Blair Witch" really does feel like a remake that does the same thing as the first movie, only with updated technology (smaller cameras, a drone, GPS locators, etc.) that, while cool, does really nothing to measurably advance the story. The sequel hook is that in this film, James (James Allen McCune) is the younger sibling of Heather Donahue — one of the trio that went missing in the first movie — and he incredibly believes that she may somehow still be alive (!!!) and organizes a group to go and try to find her. That premise is so farfetched that it puts an initial taint on the "Blair Witch", but that alone would not have been insurmountable if the update was good enough to stand on its own.
The key problem here is that since the original movie was released, so many found footage films have been made that retelling the same story with new and different characters is no longer going to be good enough. While the technical specifications (video quality and sound design) are markedly better in this version, there really isn't much else to differentiate this one from its predecessor. . . that is, until the final scene.
But whereas the first film benefits from a lean approach that does maximizes its scares with a short ending scene that is legitimately terrifying because of what you don't see, "Blair Witch" takes the opposite approach; its final scene is about four times as long and it shows you everything. Drawing things out like that takes away a lot of the dread factor, and being shown the source of the thing that goes bump in the night is ultimately unsatisfying.
"Blair Witch" isn't terrible, but it's not going to re-invent the genre, either.
---
Louisa was unavailable for review.