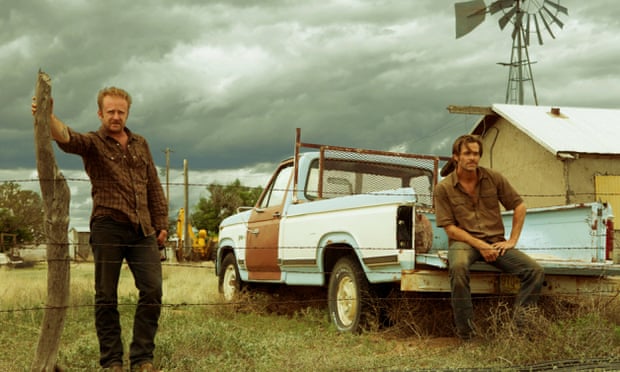 LOUISA:
MATT:
---
LOUISA SAYS:
"Hell or High Water" is one of those little movies that comes strolling along out of nowhere and proceeds to knock your socks off. If you are looking for an extraordinarily well crafted film, this is it. It's not flashy nor splashy (this isn't an action packed shoot 'em up cops and robbers action flick), it's a complex, perceptive character study with a slow burning tension. Everything about this movie, from the accomplished lead performances to the insightful script to the phenomenal original score (by Nick Cave and Warren Ellis) to David Mackenzie's bold direction, exudes a confident cowboy swagger. I didn't want this movie to end.
The film is set in modern day West Texas and has a remarkable sense of place (reminding me much of 2010's beautifully haunting "Winter's Bone"). Giles Nuttgens' dusty, gritty cinematography feels like a broken-in pair of old leather boots, the perfect compliment to the desolate landscape shots of foreclosed farms, lonely roads and abandoned towns. You can practically reach out and touch the desperation.
Here's a rare movie where worldly, perceptive dialogue and sophisticated character development thrives; the character study is just subtle enough and the writing (from super talented screenwriter Taylor Sheridan, who wrote "Sicario," one of my Top 10 Best Films of 2015) is whip smart. The story focuses on brothers Toby (Chris Pine) and Tanner (Ben Foster), the brains and the brawns behind a scheme to rob banks in a last ditch attempt to save their family farm. The criminal duo soon find themselves being chased by Texas Ranger officers Marcus (Jeff Bridges) and Alberto (Gil Birmingham). We all know the inevitable showdown is coming, and the tension leading up to the final confrontation left my heart racing.
The performances feel so authentic and are inspired all around. Pine is stunningly effective and makes huge strides in his acting cred with this role. Foster gives another exceptional interpretation of a detestable yet sympathetic character (he's born to play roles such as this), and Birmingham is marvelously understated as a loyal friend and partner. There's no denying that Bridges is a national treasure but I really wish he wouldn't have made the choice to do that ridiculous accent he's so fond of lately; at some point he starts to come across as a Sam Elliott rip-off. It doesn't hurt the film and in fact it actually fits with the subject matter — once you get over the initial shock of it all.
"Hell or High Water" presents a story that's cynical yet hopeful, a universal story that grabs on early and never lets go. This movie is never condescending, doesn't pander to the audience, and gives me hope for the future of indie cinema's struggle to get a seat at the Hollywood blockbuster table.
MATT SAYS:
Beautifully photographed by Giles Nuttgens and based on a screenplay by "Sicario" scribe Taylor Sheridan, "Hell or High Water" is a western fable of and for our times.
Toby (Chris Pine) and Tanner Howard (Ben Foster) are brothers who are committing a series of robberies of small-town Texas banks. Toby is the sympathetic mastermind behind the crimes while Tanner is the muscle, and each heist is pulled off with precision. The Texas Rangers, led by Marcus Hamilton ((Jeff Bridges) are hot on the trail of the Howard brothers, but they are seemingly always one step behind.
Directed by David Mackenzie, "Hell or High Water" perfectly captures the desperation of broken families, broken homes, and broken people living underneath the shadow of ruthless profiteers that seek to exploit the ninety-nine percent. Pine and Foster play off one another well, with Foster playing the unhinged sociopath while Pine is the understated father trying to do right by his family. In this world, the lines of criminal versus law-abiding citizen are blurred and morality is a relative concept. It's hard not to sympathize with the brothers, at least to a point. Their struggles are authentic and of our times, and the conflict between them and the lawmen that pursue them equally so. It is no surprise that the movie is connecting with audiences nationwide.
Just as "Unforgiven" was a singularly new take on the classic western, "Hell or High Water" stands as a potent reminder of the times we live in and the realignment of the classic struggle of good versus evil in an age of "me first" greed and selfishness.
Save