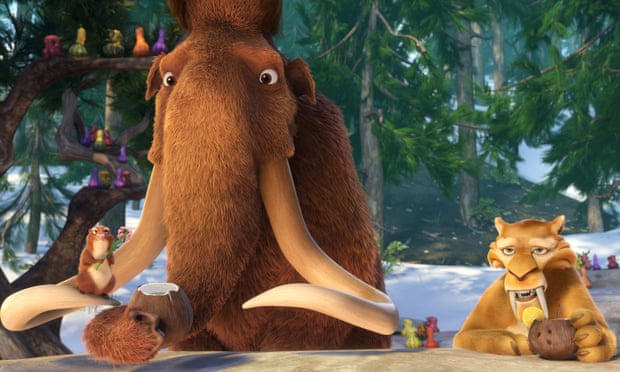 LOUISA:
---
LOUISA SAYS:
The fifth film in the prehistoric animated franchise, "Ice Age: Collision Course," may feel a little stale but it's still an enjoyable movie. There's plenty for kids and adults alike to appreciate. It's funny, heartwarming, and beautifully directed by Mike Thurmeier and Galen Chu. It's not something that will change the face of cinema but it's far better than the usual throwaway animated junk that Hollywood frequently churns out.
The formula may be the same (our beloved animal heroes once again set out on an adventure, this time to save themselves from a giant incoming meteor) but the movie somehow manages to still feel original. In a brilliant move by the filmmakers, there's quite a bit of screen time devoted to the silly, accident prone squirrel Scrat. (Seriously, it's time for Scrat to get his own movie)! As with the previous films, "Collision Course" features brief snippets of several subplots interspersed with Scrat's slapstick antics.
Woolly mammoths Manny (Ray Romano) and Ellie (Queen Latifah) are struggling with their daughter Peaches (Keke Palmer) growing up, getting married to the goofy Julian (Adam DeVine) and leaving home. Manny's best friends are back too: Sid the sloth (John Leguizamo) continues his quest for true love and saber tooth tiger Diego (Denis Leary) is as wise and grumpy as ever. I was thrilled to see Granny (Wanda Sykes) back with a larger role; she's easily the funniest of the bunch. The gang teams up with erratic one-eyed weasel Buck (Simon Pegg) for help saving the planet.
The voice talent rages from brilliant (Sykes and Leguizamo) to good (DeVine and Pegg) to barely acceptable (Latifah and Romano) to downright irritating (Jesse Tyler Ferguson's lame shtick as the Shangri-Llama is neither funny nor original, and Palmer is simply awful). Other actors lending their voices include Jennifer Lopez as Shira, Jessie J as Brooke (a gorgeously animated new character that's sure to be a hit with little girls everywhere) and Nick Offerman as Gavin (the only supporting voice actor whose performance is so strong that he doesn't get lost in the background).
The movie has a slightly smart, slightly scientific plot and message. This film isn't even close to being as brainless as the studio's marketing campaign would lead you to believe. The science is ludicrous of course, but at least astrophysicist Neil deGrasse Tyson shows up for a tongue-in-cheek 'explanation' (as Neil deBuck Weasel). It's enough to make inquisitive kids go home and pick up a book or Google the scenarios that are presented. Overall the movie's message values science and learning over ignorance, and we should all get behind that.
That's not to say that this movie isn't stuffed with stupidity, but at least it's not overly stupid. Yes, there's plenty of lowbrow bathroom humor; yes, there's a substantial amount of modern lingo sass-talking; yes, the obnoxious possums Crash and Eddie (voiced by Seann William Scott and Josh Peck) are back with groan-inducing flamboyance. But the core characters are so likeable and the animation so skilled that it's easy to overlook the film's flaws.
---
Matt was unavailable for review.
Save