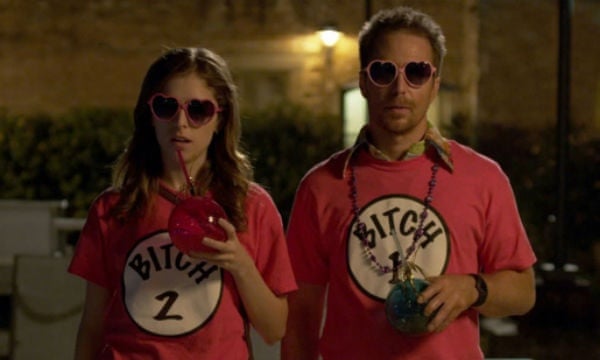 LOUISA:
MATT:
---
LOUISA SAYS:
"Mr. Right" isn't much more than a half-baked hitman romantic comedy. We've seen the concept before (think "True Romance" meets "Grosse Point Blank"), but the idea has never been as messy, sloppy and as ill conceived as it is here.
Unlucky in love Martha (Anna Kendrick) has her world turned upside down when she meets and falls for gun for hire Francis (Sam Rockwell). Their love story blossoms over killings, knives and gun battles. The script, written by Max Landis of "American Ultra" fame, is just too flimsy to work. I expected more from the writer.
Tim Roth and RZA turn in enjoyable supporting performances, but the two leads lend the most starpower. The film features the onscreen pairing of my dreams with Kendrick and Rockwell. The two have an undeniable chemistry, but both actors are completely wasted with this mess. I really, really hope to see them work together in the future in a good movie — they both deserve a far better vehicle than this.
"Mr. Right" is a fun idea that's poorly executed.
MATT SAYS:
In "Mr. Right," Martha (Anna Kendrick) has recently broken up with her boyfriend after she discovers him cheating on her. A chance encounter in a convenience store leads her to start dating an unnamed hitman (Sam Rockwell).
If those two names — Sam Rockwell and Anna Kendrick — are all you need to hear to decide you want to see this movie, read no further. If you want to see the two of them play off of one another, this will be a meal that is mostly satisfying for you, but leaves you just a little bit hungry for something with more substance. There are probably vehicles that would have worked better for the two of them, but basically, it's enjoyable enough as a choice for a movie night at home.
The highlights: Sam Rockwell's dancing and dry delivery and the way that Anna Kendrick's millennial-angsty, world-weary-but-optimistic character plays off of him. Tim Roth's nameless soldier-of-fortune with inscrutable motivations. The rent-a-thug Steve (The RZA), who is nothing if not pragmatic. The lowlights: a terrible script that tries too hard to shoehorn a hardcore action plot into a film that works well enough without it. It's readily apparent why this movie didn't get a wider theatrical release.
I enjoyed seeing it, but ask me a month from now and I'll barely remember it.