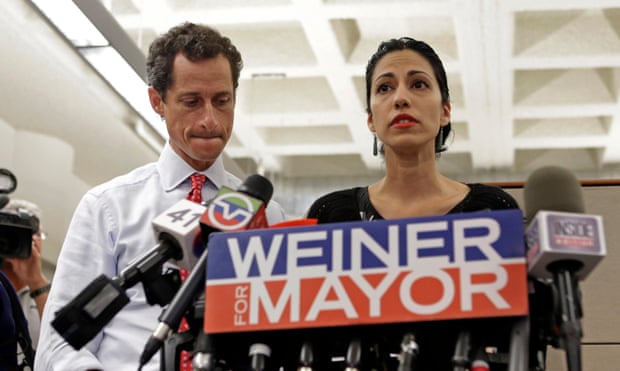 LOUISA: 
MATT: 
---
LOUISA SAYS:
Chances are, you already know how the story of disgraced former New York congressman Anthony Weiner plays out. You may think "Weiner," a documentary about the man's unsuccessful New York City mayoral run, will just be a series of 'been there, done that' storytelling. I had the same trepidation going into the screening for this film but instead left the theater having viewed a riveting, engrossing, expertly crafted documentary.
Some viewers may find this film exploitative, focusing too much on Weiner's personal life that is, quite frankly, none of our damn business. Political junkies (like myself) will delight in this compelling behind-the-scenes peek at the inner workings of a campaign in crisis mode. Watching public relations tactics changing from offensive to defensive is absolutely fascinating, and this timely documentary also tackles the media's rabid obsession with scandal (and reveals the true power of their public influence when it comes to electing our governing officials).
"Weiner" digs deep in its look at the professional and emotional damage that a political scandal can inflict. Directed by Josh Kriegman and Elyse Steinberg, the film obviously started out as a celebratory highlight reel to feature the delight of a disgraced candidate's comeback. Early scenes in the film are cheerful, filled with boisterous scenes of neighborhood campaigning and percolating with a general 'yes we can' atmosphere. All of this suddenly comes crashing down as we watch, on film, the breakdown of a candidate's dreams, ideals, and a huge chunk of his personal life.
Weiner is married to Hillary Clinton's long-time right hand woman, Huma Abedin. Huma is one smart, strong and tough woman, but it's seriously sad to watch a marriage nearing collapse under the weight of a sexting scandal. Whether intentional or not, this film heavily implies spousal emotional abuse. There are many instances where the camera captures a teary-eyed Abedin with her head hung low, crossing her arms and sadly staring off into space. I have much respect for the family for allowing the camera to hang around, even during some uncomfortably tense and very embarrassing personal moments.
Most viewers will know that Weiner (aka 'Carlos Danger') is a trainwreck when it comes to his personal life and most know the outcome of the race for mayor, but this film is still completely mesmerizing. The man's a political survivor, driven with a sincere desire to work hard to make his city great. His policies and beliefs all make sense — so why can't this guy keep his stuff together and quit sending naughty photos and inappropriate texts? The most compelling scene in the entire film is when he's asked on camera if he thinks he "has a problem." Weiner's candid response is as weighty as it is revealing.
The smart 'show don't tell' angle of this film makes it a winner. While it doesn't quite reach the heights of my personal 'Hall of Fame' docs like "Man On Wire," "Grizzly Man" or "The Act of Killing," the film is clear, concise, well edited, and a prime example of what all documentaries should aspire to be.
MATT SAYS:
Anthony Weiner is a compelling figure. As a fiery congressman from New York, he fought both loudly and vigorously against corruption in the political system. He quickly rose up the ranks to become one of the more visible legislators in the national spotlight, until a sex scandal caused him to step down and not run for re-election. Then, less than two years later, he decided to throw his hat back in the political ring, running for Mayor of New York City. His mayoral candidacy was going well, until more information came to light about his previous indiscretions – which effectively ended his run.
There's no question Weiner is an interesting figure and good subject for a documentary. The filmmakers were given what appeared to be virtually unrestricted access to Weiner's staff and headquarters, not to mention his home. During the film, we witness the ups and downs (but mostly downs) of Weiner's efforts to clear his name and get back into politics, and we see the tension and strain that his highly public life and indiscretions have caused to him and his marriage to Hillary Clinton's trusted adviser, Huma Abedin.
While it's easy to question (as even the filmmakers do at one point) why the former congressman gave them so much access, it's hard not to be impressed by what the film shows us. The documentarians seem to be present for virtually every major event, and the reactions they are able to capture from Weiner (and, more importantly, Abedin) tell the story so much better than any narrative can.
While the movie is good, except for a few telling shots of Abedin that it captures at important moments, it never really ventures into greatness territory. The choices made in the editing room are a little questionable here. While we get a taste, at the beginning and in a few other telling moments, about what makes Anthony Weiner an interesting political figure, too much of the film's attention is focused on his scandals. Even though that does result in those insightful moments with Abedin, the emphasis on the scandal at some point begins to feel a bit sordid.
In fact, the movie is walking a bit of a fine line when it comes to the scandal stuff: on the one hand, it seems to be wagging its finger at us for our prurient interest in what Weiner said, when, and to whom. On the other hand, for a film that would ostensibly question why his private sex life should be the business of anyone besides Weiner and Abedin, it sure does spend an awful lot of time exploring those dirty details. The end result is a bit confusing, and more than a little bit off-putting.