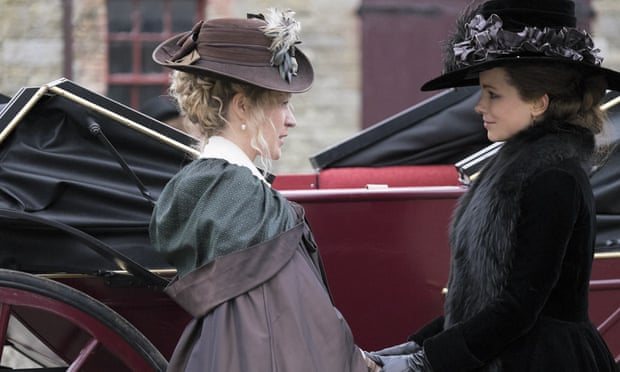 LOUISA:
MATT:
---
LOUISA SAYS:
I've been a longtime fan of writer / director Whit Stillman and his snooty, spoiled brat brand of hipster exclusivity. His usual sharp, overly talky and witty dialogue and directing style are on full display in "Love & Friendship." While Stillman stays true to his personal privileged rich kid filmmaking traits, this movie failed to win me over.
"Love & Friendship" is actually quite boring. The movie is based on the Jane Austen novella "Lady Susan" and tells the story of a widow (Kate Beckinsdale) who seeks refuge with her in-laws while trying to find suitable husbands for herself and her daughter (Morfydd Clark).
I found myself only briefly entertained, mostly by Tom Bennett and his goofy, charming performance as Sir James Martin. The actors are proficient across the board, from Stillman alums Beckinsdale (delightfully chewing the scenery as Lady Susan Vernon) and Chloë Sevigny (Alicia) to Emma Greenwell (Catherine) and Stephen Frye (Mr. Johnson). The late 1700s period costumes are marvelous, the grandiose sets are historically accurate, and I have zero complaints about the screenplay or direction, but believe me when I tell you that this movie will put you to sleep.
"Love and Friendship" feels like the type of period film that snobby braggarts watch, emphatically decree its 'wit' and 'cleverness,' all the while patting themselves on the back for loving it (or pretending to like it when they actually don't). The film's not bad, it's just pretentious and annoying, doing everything possible to openly expose its sentiment of superiority over its audience.
I can't recommend this movie to anyone except English majors, die-hard Jane Austen fans, and those in need of a good nap.
MATT SAYS:
If you are Rich Uncle Pennybags (a.k.a. Mr. Monopoly) or the New Yorker guy, you will adore "Love & Friendship" (another way of saying that: the best accessories for watching "Love and Friendship" are a top hat and a monocle).
If you are the sort of person who loves to laugh loudly at movies based on Jane Austen novels or Shakespearean plays to demonstrate that you get the joke, "Love & Friendship" is for you. But if you don't fit into either one of those categories, you can safely skip it.
The director of "Love & Friendship," Whit Stillman, is a bit of an acquired taste. I found "Barcelona" and "Damsels in Distress" to be enjoyable, while "The Last Days of Disco" and "Metropolitan" both tried my patience. Unfortunately, this fits into the latter category.
In "Love & Friendship," the always-delightful Stillman veterans Kate Beckinsale and Chloe Sevigny join a cast of mostly unknowns in a movie based on Jane Austen's novel "Lady Susan." Despite their performances being dependably strong, the film overall was not. It was something of a mishmash of directorial styles; where Stillman at times chooses to let his camera be an observer, in other moments he is almost confrontational. For example, at various times in the movie, he introduces the characters with onscreen names and titles (as you would expect from modern reality fare) and by doing so challenges you to remember who the hell these people are and what are their relations to one another. It's a lot to keep up with, and is immediately frustrating to the casual viewer.
Plot-wise, the film is weak. Admittedly, it looks good on paper: a strong, intelligent woman manipulates the foppish, silly, easily-manipulated men that populate her world through her keen understanding of their foibles. But that alone — an idea that has a timeless appeal — isn't enough to create a compelling narrative, even during its relatively short running time.
This is supposed to be a comedy: the witty repartee between the characters is supposed to make us laugh. But the lines that are supposed to humorous are, for the most part (and with the notable exception of the physical humor by Sir James Martin (Tom Bennett)), of the type where any laughter in response is forced and unnatural. To put it another way, the people who laugh at this film are laughing to show they get the joke, not because they actually find it to be funny. There's little in this world that annoys me more.
Frankly, it's a bit of a chore to sit through. I didn't walk out of the movie feeling like I had spent my time wisely. I can't recommend it.