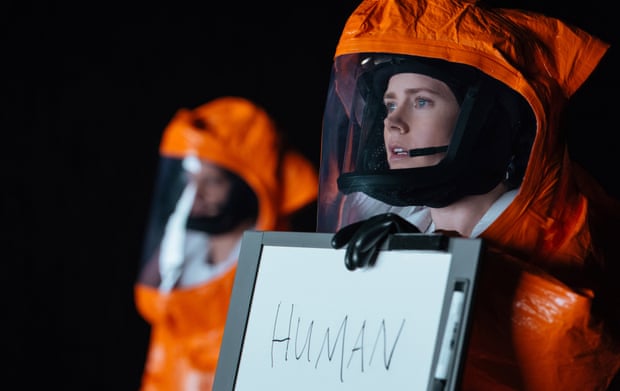 LOUISA:
---
LOUISA SAYS:
The peculiar and cerebral "Arrival" is packed with heavy themes for thoughtful people, making it a sure audience-divider between those looking for a high art think piece and those seeking an entertaining sci-fi escape. While its ambitiousness is something to admire, the film is also not as thought-provoking as I'm sure was intended.
The film sets out to shatter the conventions of its genre, although it starts off the same: citizens turn on their televisions to news reports that many mysterious alien spaceships have parked themselves over several of the world's major countries. University professor and expert linguist Louise (Amy Adams) is plucked out of bed by a military honcho (Forest Whitaker) to help decode the alien language. Joining the team is fellow smarty-pants Ian (Jeremy Renner). These intellectuals are tasked with saving humanity by simply finding the answer to the big question: "why are they here?"
Of course there are several gung-ho Army soldiers who want to join in with Russia and China to respond with military force instead of taking the emotional, talky route. There are plenty of scenes of the scholars of the world coming together to solve the puzzle (while not sharing too much intel). As the world struggles to understand the extraterrestrials as well as each other, the allies begin cutting off all contact one by one, eventually 'going dark' and retreating to their own safe spaces. This really speaks to many Americans right now as we are attempting to cope with the realization that Donald Trump will be our country's next president. The film is profound in its message of isolationism — and its timing.
This is unconventional science fiction that's a welcome breath of fresh air — sort of. You won't find a computer animated spectacle loaded with thrilling special effects because this is a film that presents a brainy exploration of big ideas. But while the story kept my mind busy, I had very little emotional connection to the film.
The premise isn't all that compelling and the obvious conclusion is more than a little unsatisfying. There are too many dreamy sequences that I viewed as a complete flop. While they are calculated to look dark and dreary, I found them to be poorly filmed and out of place. The aliens come in peace, but they want humans to learn their language so we will be able to alter the space-time continuum (or something like that). It's ironic that the film also plays with time when it's convenient, and solely as an audience manipulation tool. We also have to suffer through irritating faux-profound voiceover from Adams about the "order of time." Yawn.
A lot of fuss is being made about "Arrival," and I get it. But this isn't exactly my definition of an enjoyable time at the movies.
---
Matt was unavailable for review.