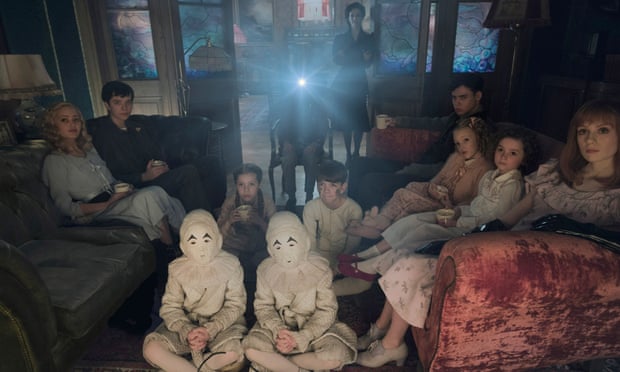 LOUISA:
MATT:
---
LOUISA SAYS:
The tween sci-fi / fantasy genre is the perfect match for director Tim Burton. His signature bizarro style and grim tone fits like a glove with the whimsical, fantastic "Miss Peregrine's Home for Peculiar Children." This film is spooky, stylish, and wondrously bizarre. There's a nightmarish vision that's fully realized and brought to life with a great deal of visually stunning special effects.
Adapted from Ransom Riggs' wildly original best-selling literary trilogy, the film tells the story of Jake (Asa Butterfield), a teen who uncovers a mysterious family secret with a bit of prompting from his war veteran (and the oddly peculiar) grandfather Abe (Terence Stamp). When Jake and his dad (Chris O'Dowd) travel to Wales in search of the children's home which his grandfather speaks so fondly of, the boy enters a magical time loop world that's inhabited by very, very peculiar people with a range of mystical powers.
I am unfamiliar with the books so I'm not sure how true to the original source material the film is, but I was totally and completely engrossed with and engaged in the story (which reminds me of an even darker mash-up of "Lemony Snickets" and "Harry Potter"). That means even if you aren't a fan of the series, you can still enjoy the movie.
The standout performance belongs to Eva Green as Miss Peregrine, the pipe smoking, shape shifting charge of the children's home. Green creates a charming, sophisticated character with whom I instantly fell in love. I can't imagine anyone else playing this role, and she's great enough to deserve awards consideration. It would've been easy to go with an over-the-top characterization of this character but she doesn't. It's obviously a character and role she loved and wanted to do justice (ditto for Stamp).
The kid actors hold their own too. Butterfield is perfectly understated as wide-eyed and curious Jake, and Ella Purnell is appropriately graceful as his lighter-than-air love interest Emma. Lauren McCrostie (Olive) and Finlay MacMillan (Enoch) are enchanting too, elegantly toying with a considerable onscreen chemistry. The worst (and most distracting) performance sadly comes from Samuel L. Jackson as the evil Barron. Jackson is more than a little miscast and his confrontational yelling style of dialogue delivery reads as more campy than sincere, and that detracts from the tone of the movie.
The pacing is just right until the last half hour, when the film becomes crowded with borderline silly action sequences and rushed plotting. It's also a bit of a stretch to overlook some of the gaping plot holes left in its wake (playing around with time and space will do that to the best of movies, however). But although the run time is over two hours, I still found myself wishing the movie was longer. I left the theater wanting more. Much more!
The darkly whimsical subject matter earns the film a very appropriate PG-13 rating. Take note that it's quite scary and intense (and not for very sensitive little ones), but it's the perfect Halloween-time cinematic outing for older kids and adults.
MATT SAYS:
Somewhere off the coast of Wales is a special place for "peculiar" (read: kids with extraordinary abilities) children to live, safely tucked away from those who would harm them. This home exists in a special time loop; a place that allows them to experience each day and remember it, but never grow older because each new day to them is actually the same day in time, lived over and over again.
So goes the story of "Miss Peregrine's Home for Peculiar Children", the newest film directed by Tim Burton ("Beetlejuice", "Edward Scissorhands"). When Jake Portman's (Asa Butterfield) grandfather Abe Portman (Terence Stamp) dies under mysterious circumstances, Jake goes looking for the home and answers for what happened to Abe. There he meets the headmistress and protector of the home, Miss Peregrine (Eva Green) and her charges. But their safety cannot last forever: they are being hunted by Mr. Barron (Samuel L. Jackson), who is drawing ever closer.
"Miss Peregrine's", based on a popular young adult (YA) novel of the same name, is a refreshing change from some of the other YA-based films that have been released in recent years. This is neither dystopian nor weepy; instead, it's straight-up fantasy with some dark elements — essentially, the type of material with which Burton excels. He handles it well, taking seriously the problems and issues faced by the children while also delighting in some of the more fanciful elements of the story. The film doesn't shy away from violence or the more frightening aspects of the story (including a subplot that reminds me more than a little bit of the biggest stomach-turning moment from "The Neon Demon"), which was a pleasant surprise given that the trailers mostly focused on the whimsical.
If you're a fan of fantasy or Burton's signature style, "Miss Peregrine's" is worth your attention. But parents should be warned: as I said above, it's not all lighthearted whimsy. There are some pretty scary-looking monsters in the movie and some visuals that could be terrifying to little ones.
Save