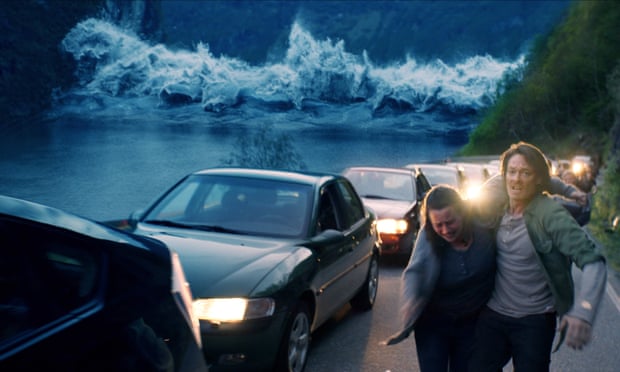 LOUISA: 
  MATT: 
---
LOUISA SAYS:
I've yet to see a bad movie from Norway, a country that has seemingly endless talent when it comes to filmmaking ("Happy Happy," "Trollhunter," "Kon-Tiki," Headhunters"). Surprisingly, "Bølgen" ("The Wave" is its English translation) is Norway's very first disaster movie — and it's a doozy of a thrill ride.
This beautifully crafted catastrophe movie is based on a real place in Norway: the actual fjord town of Geiranger, a place that lives under constant surveillance of this real geological threat. Yes, this film presents a scenario that could be based in fact. In fact, the film's opener feels like a documentary rather than fiction and as soon as the credits rolled, I was looking up the geological issues of the village (and yes, it's based in truth).
The film must've had a small amount of monetary backing because the cinematography suffers a bit. Some parts of the film are so dark that it's impossible to make out what's going on, but that's okay. It's a clever use of a limited budget and it really gets you involved in not only viewing but actually feeling the movie as well. Every disaster movie checkbox is ticked but instead of feeling like a list of annoying clichés, it works really, really well as a smart tool to build anticipation. You know the wave is coming, but you just don't know when.
"The Wave" isn't just loaded with CGI spectacle. There's a gradual character development that greatly adds to the humanity of the story, making it much easier to elicit empathy from the audience.
The film focuses on Ristian (Kristoffer Joner), Idun (Ane Dahl Torp), and their two children, a family that gets separated during the flood and try to find each other in the aftermath. The human element really makes the story work (the film is very reminiscent of 2012's "The Impossible" in this respect). I cared about these characters from the get-go and I found myself on the edge of my seat worrying for their safety.
This is a great disaster movie, pure and simple. It's suspenseful, well acted and a must-see for fans of the genre.
Note to parents: the movie is inexplicably rated R and should be PG-13. The only reason for the harder rating is a few "f words," making this a fine choice for more mature kids.

MATT SAYS:
Norwegian director Roar Uthaug out-Hollywoods Hollywood in a movie that is low in budget but high in thrills.
The small Norwegian town of Geiranger is situated alongside of one of Norway's beautiful fjords. Kristian (Kristoffer Joner) is a geologist tasked with keeping a close watch on the nearby mountain pass. Decades ago, Geiranger was swallowed in a tsunami that was created by a massive avalanche. Since then, the town has put precautions in place for such a disaster, but no one is really prepared for it to happen again.
"Bølgen" ("The Wave") is a nearly perfect disaster movie. It follows the formula established by 70s movies like "The Towering Inferno" and "Airport" and repeated again more recently in "Armageddon," "The Day After Tomorrow," and "San Andreas." Some may say this is a bad thing, but I disagree: formulas exist because they work. That doesn't mean that every film that follows it will be good, or even entertaining. But in the hands of a capable filmmaker, it's impossible not to enjoy a good disaster picture.
It's simply amazing what Uthaug and his crew are able to do with a relatively small budget. The effects are impressive and convincing, the acting strong, and the script first-rate. It comes as no surprise that the film industry has taken notice: he's already signed on to do a big-budget reboot of "Tomb Raider."
Please don't let the subtitles dissuade you: "The Wave" is one highly entertaining thrill ride.